Photographer.
Makeup Artist.
Creator.
Conservationist.
My journey didn't begin with photography… it actually began with studying wildlife and conservation. I am passionate about many things – preserving our Earth is one of them.
Sometimes it doesn't matter how we got where we are – it is just that we got there. Expand on my story to get to know me more.
Degrees
---
MRes in Primate Biology, Behavior & Conservation B.S. in Neuroscience B.S. in Wildlife Ecology & Conservation
---
Origins
---
Born in Maine, I first grew up with extremely cold winters, summer trips to the beach, and lobster dinners with the whole family. On my father's side, we would visit my grandparents near the farm on weekends and would help pick fresh vegetables from the garden. On my mother's side, I would watch my grandfather play cribbage with my uncles and hear them talk about the best spots to fish. My grandmother would cook us traditional Japanese food – delicious meals consisting of tofu, rice, and sweet treats. Our home, located on a one acre plot, was frequently visited by wild turkeys and deer. Unknowingly to us, there was probably an occasional moose too. Although life in Maine is a sweet memory, we didn't stay. When my family relocated to Sparks, Nevada, it was a quick scene change. What I knew to be humid and forested land became a dry and vast desert. Here is where I spent most of my childhood and some years as an adult. The more time I spent in the Great Basin Desert, the more I got used to seeing the expansive landscape, and keeping my eyes open for a rattlesnake head. Even though a part of my heart remained in Maine, the other half loved seeing the wild horses and enjoyed the American West. I eventually embraced the motto "Home means Nevada".
---
Wildlife & Conservation
---
I have always loved animals. As a child, I enjoyed every little creature – birds, dogs, cats, and lizards (really whatever flew, walked, or slithered). Whenever we visited a city that had a zoo, my parents would take me there! I loved observing the behavior of wild animals and learning more about their home habitat. I worked with animals in every opportunity – at a dog vacation kennel, shoveling horse manure to earn horse riding lessons, and even rescued a California quail who I raised to adulthood. It wasn't until I was in high school when I really became charmed by a specific kind of animal – primates. It was my discovery of Koko the gorilla who showed me how intelligent and sentient apes can be. I had watched a video where Koko learned that her kitten "All Ball" had been killed by a car. Through sign language, she understood what had transpired and what death really meant. As Koko cried in the video, I wanted to cry too. At the University of Nevada-Reno (UNR) and under the guidance of Dr. Christopher Feldman, I conducted a two-year research project which examined the effects of cheatgrass (Bromus tectorum) on the western fence lizard (Sceloporus occidentalis). For this project, I combed different patches of desert and documented lizard encounters. I built a device to measure temperature differences across these patches to compare to the encounters. In my final year, I presented my research to the honors and biology department. After graduating from UNR with my Neuroscience and Wildlife Ecology & Conservation degrees, I became a graduate student at the University of Roehampton, London. Dr. Stuart Semple was my mentor in the MRes program: Primate Biology, Behavior and Conservation. It was in this program that I learned the most about the species I love, and also learned a lot about myself. For half of the program, I was taught biological statistics, research methods, and unique topics involving primates. For the second half, I conducted my own fieldwork and research for my dissertation. To conduct my research, I became a guest intern at the Primate Research Institute (PRI) of Kyoto University in Inuyama, Japan. As a field mentor, Dr. Andrew MacIntosh connected me with the primate center and counseled me in my research on site. During this student internship at PRI, I examined grooming behavior in Japanese macaques (Macaca fuscata). I spent three months in Japan observing the hand movements of the macaques, who they socialized with, and determined the hierarchy within the groups. It was the completion of this dissertation that concluded my master's degree.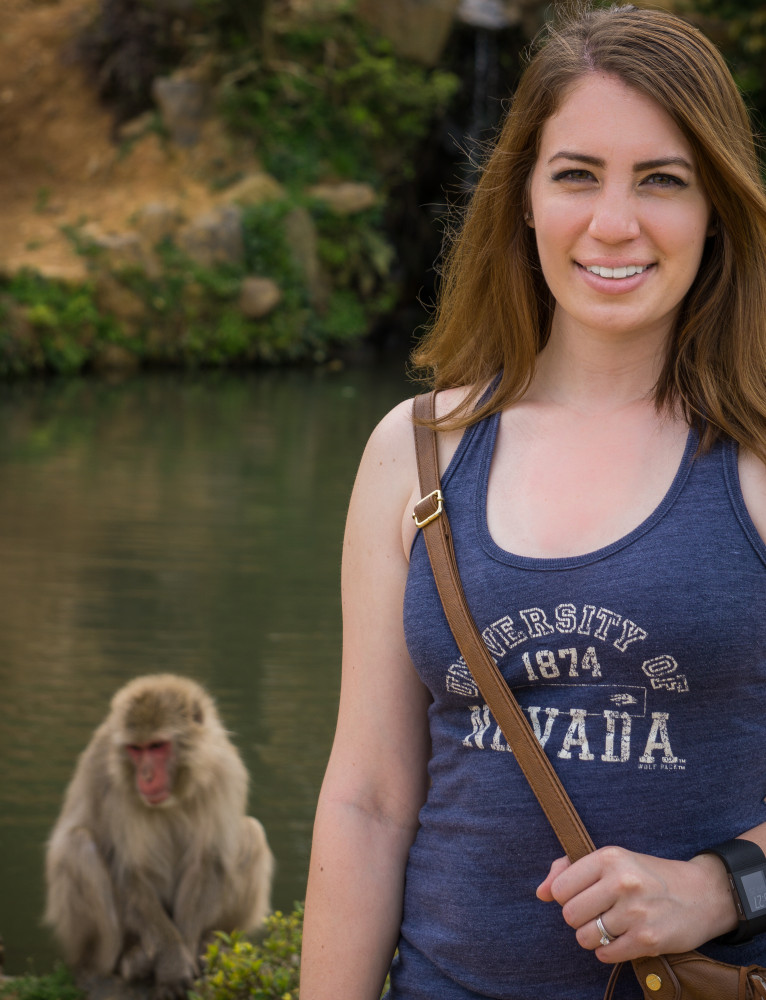 ---
Makeup
---
At first I didn't appreciate the magic of makeup… as a teenager, I mainly used it to hide acne and bring out my eyes. I also saw makeup as method of bonding between me and my sister or mother. As I got older, I started to see makeup more as an artform – using different colors, techniques, and products for unique effects! In the beginning, my makeup looks were just experimentations on Instagram (sometimes I bought something new at Ulta and just wanted to see what I could do with it). I started to get a lot of feedback about what I was producing – some people said I was developing great skill and that I was climbing to be above average. With this boost of confidence, I began dabbling in the glamorous – false lashes and glitter (features that weren't characteristically me). Then glamorous turned into the extremely glamorous – what could I create that was different and challenging? I began to plan more, practice more, and do more exciting looks! While in London, I practiced on a few models – they wanted a distinctive look to add to their portfolio and wanted to see what I could offer. When returning to the U.S., I kept this the idea with me of creating appearances that weren't traditional and that were bold. And now, I embrace this philosophy of being artistically free! I am constantly investigating new techniques and designs so that I can empower a character or theme that I am creating. Ultimately, I use what I have learned to empower my model or client into being someone that they have always envisioned of being. Thus, this has brought on my campaign, "Who do you DARE to be?".
---
Photography
---
As an early graduation gift from UNR, my husband and parents bought me my very first higher quality camera – a mirrorless Sony ɑ6000 (which I still use today and its upgraded version). I experimented with the camera a little when I lived in Reno, but it was in my travels abroad that I took advantage of its capabilities. I taught myself the details of photography – using Lightroom, differences in RAW files, and the techniques of capturing a shot with various lenses and tripods. I taught my husband everything that I had learned, and together we captured landscapes and wildlife with our cameras. We made photography dates at the zoo and at the wetlands center so that we could practice our skill and offer criticism of each other's photos. We traveled to different countries, collecting images of the most beautiful places we had seen and the most memorable moments. Soon, we became confident in our skills as photographers to charge for our services while living in London. We were able to gain experience working with people, working in unpredictable weather, and across venues. And, above all, we complemented each other in ways that the other was lacking. As the business owner of Bozanich Photography, I aim to empower people with their images. I want to show them how they too can be undeniably beautiful, become a fantasy character, or look like they belong in a magazine. For couples, it is capturing the love emitting between them – exposing their devotion for the world to see. For families, it is the dynamics across family members that interest me most. I watch the interactions between parents and children, sisters and brothers, and grandparents to grandchildren. I love capturing what happens when no one is looking! As anyone in this field, I am always learning about this art form. Technology changes, as do fads and styles. But, beautiful will always be in.
---
Where am I now?
---
Upon returning to the U.S., my husband and I decided to move to Seattle so we could return to his childhood roots and soak in what the city had to offer. We created wonderful memories with new friends in the city, in the mountains on the east, and in the islands to the west. In a few short years, we expanded our family with the addition of our son, Skyler. However, with the future of our family in mind, we decided to pick up and move again to a new town with lots of opportunity. We chose Orlando as our new place to be! We live in a suburb of the city (specifically Saint Cloud) and it is here that I have an in-home studio. Equipped with backdrops, lighting, and creative makeup supplies, I greet customers and friends into our home with a welcoming embrace!
---
---